Have you seen
Frances Bean
lately?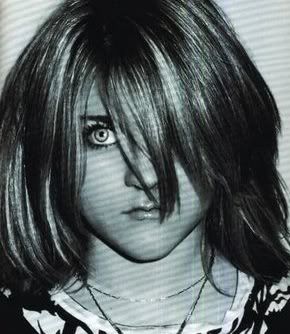 She looks exactly like an anime character.
See?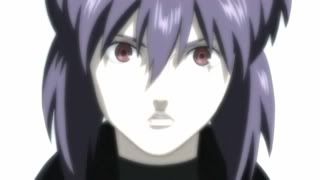 That's Major Motoko Kusanagi from
Ghost in the Shell
. I should know. I'm an anime freak. It's an awesome movie. You should totally watch it, even if you don't like anime. The Matrix totally bit off of it like, so hard.
Of course, she has a kind of young
Liz Phair
thing happening too: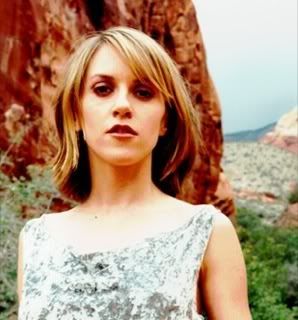 I don't know. I love Liz Phair. She's just adorable. I'm not so wild about every album she's released since
Exile In Guyville
, but that's for another post.
Anyway, I was thinking... If I were fifteen years old, I do believe I'd be in love with Frances, despite her terribly unfortunate pedigree. I mean, I miss Kurt as much as anyone, and Courtney is just a fucking embarrassment. What do you think it would be like to date FB? I think it might go something like this. Keep in mind, you're fifteen, and totally awkward as fuck already.
You arrive at her house.
You: Hey...
Frances Bean: Hey.
Y: So, what do you feel like doing?
FB: I don't know. Come in while I finish getting ready.
Y: Um, is your mom around?
FB: Ugh, yes. Just hang out. I'll be ready in like 5.
Y: Uh, ok.
[Frances runs to her room to finish getting ready. Courtney stumbles in a nearby room, and you begin sweating. She staggers in, and finding you in the entry way, stops, eyes you up and down, and coughs.]
Courtney (drunk, possibly loaded on pills, half-dressed, cigarette dangling): Who the
fuck
was at the door? Why did you get it? We have
people
to do that.
Mexican
people.
Y: Uh, hi Ms. Love.
C: Who the fuck are you? Are you here to get Frances? I bet you want to see her naked. You do, don't you? I mean, it's totally normal. You can tell me. It's cool.
Y: I... I... we're gonna...
C: Whatever. I know you want to, you little filth bag. You better not get her pregnant, fucker, or I'll put a shotgun in your mouth too! Ha ha ha [cough, sputter]! Oh, fuck, you know I'm only kidding. Where are you two lovebirds off to, anyway...
where's that bottle of Valium?
Y: I was thinking we would just go down to the mall. Some people are there.
C: Who? Who's there? You know who's there? The fucking pappa... papra... papra
NAZI
! That's who! Those fucking bloodsuckers! Scum... they ruin everything! How many times have you had a tit fall out, completely by accident, and you weren't totally trashed? Like a million, right? Me too! But EVERY time, it's '
Courtney's off the wagon
' or '
Courtney's breaking the terms of her probation
' or '
Courtney's a complete trainwreck and is unfit to be the mother of anything short of a scorching case of syphilis
'...
Y: [...]
C: Don't look at me like that, you little shit.
Y: I... just...
FB: Ok, let's get out of here. Mom, come on. You always do this!
C: Do WHAT?
FB: You know what. Let's go. I'll be back... later, I guess.
C: You better be! And you [gesturing woozily to you] - you remember what I said..
Y: Ok... which part?
C: [slumped over on the table, passed out, snoring]
FB: Never mind. Let's go.
Y: Is it always like that?
FB: Unfortunately...
I really hope she goes in the opposite direction. And I hope Courtney is sawed in half by a giant shard of metal that falls from a construction site as she walks underneath.