And while we're getting all reacquainted, here's a little something I came across and meant to talk about.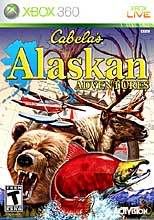 Now, I know that there's a lot of inherent humor built right into the title of this game. We could go on about that for days in and of itself. But what I love is that there's a big red fish on the cover that when observed quickly looks like a big disembodied boxing glove, especially when paired with the pained struck expression on the bear's face.
Doesn't it totally look like a ghost is fighting a bear? And winning?
And even if you think I'm crazy for thinking that, take a look at the fish's face. Let's just say there is no ghost. That is one pissed-off fish, and he looks like he's slapping the bear with his ass! Which is still pretty rad!
Perhaps it's a historical depiction of the millennial struggle between the hawk-beaked fish monster and the formidable bearmoose hybrid of the Alaskan wilderness. Either way, a stunning and inspiring picture. Certainly a topic worthy of an episode of high-definition gaming.