There's a place on a pier that we like to go to when we come to Florida, called Sharkey's. And no, sadly, it is not owned by venerated TV star Ray Sharkey. We could only have hoped. In any event, the food is great, the drinks are fast and generous, and being on the beach while you eat is usually a relatively pleasant experience.
On the other hand, they usually also have some majorly shitty cover bands doing their thing, while you try to enjoy the outdoor warm weather and booze... and this weekend was no different. The first night, there was some nitwit who thought he was the best parts of James Taylor and Jackson Browne mixed togtether, with a smidge of Van Morrison thrown in for good measure. Needless to say, the excrement from any one of those performers could put on a better show. And I'm not exactly a huge fan of either of them. So that's saying something.
The second night, there was a duo, basically doing karaoke to backing tracks. The lady was a dead ringer for Ann Wilson (chub-tastic) and sang pretty well actually, but I definitely could have done without her little surprise. While I was mid-conversation and mid-chew at one point, she came a-grinding up on me (since I was on the aisle) and attempted to intrigue me with her portly feminine wiles. Not working. She sauntered away, apparently disappointed that I didn't take her up on her wordless suggestion to suggestively dance with her in front of my family. Oh well, I only hope she didn't kill herself later from the disappointment.
There was a guy there, by the name of "Crazy Joe" who managed to dance like a retard on crack the whole night; he's apparently a regular, and hopefully satiated her need to see people other than her dance to her Heart-esque bleatings.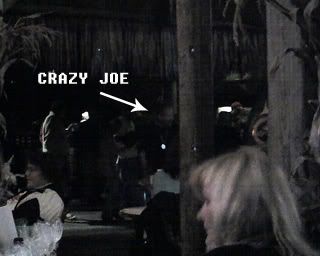 Although these older women were really getting down to the groove at some points too, they seemed a little shy. Perhaps Crazy Joe could have been the man to have brought them out of their shells? We'll never know.
We got take out the next night, but the last night we were there, the final band was actually musically pretty talented, but they made the mistake of sucking ass regardless. They had a steel drum, and it was like three older guys kind of doing a half-assed reggae, where they could have done with a whole-assed anything else. The guitar player was pretty good, but again, saddle it with suck, and the whole thing goes under quickly. I drank a lot, without really realizing it, so I probably was less scathing than I might have ordinarily been, had all my senses been as acute as they often are.
A special highlight to Sharkey's was enjoying the cell phone conversation of some jackass who worked there while I was using the bathroom on our first visit. It consisted of something like this:
"Yo – yeah, I'm at work. I don't know, like 9, or 10? Are you there? Are you THERE? Are you AT THE CONCERT? Are you THERE? Yes. No. Oh yeah. Cool. Is there free beer? Is there free beer? All you can drink? ALL YOU CAN DRINK? ALL YOU CAN DRINK?"
Something to that effect. Mmm hmm.
But the REAL highlight to the dinners was the DIRTY PIRATE HOOKER. As soon as she sat down, my sister, brother-in-law and I exchanged glances, and collectively muttered "well, you're just a dirty pirate hooker. Why don't you go back to your home on whore island" and then proceeded to laugh our collective asses off. This lady was a piece of work! Bopping to the mediocre music, wearing her half-shirt pirate blouse, while I can only assume her date was vacillating between thoughts of "I'm totally scoring with this nasty chick" and "What the hell is my problem? I should probably kill myself because I have obviously lost any sense of standards for the quality of my life".
Check out these AWESOME pics. Oh yeah.
Yes, Sharkey's is a veritable goldmine of wacky folks. A real high water mark on The People Show, every time I'm there.