I'm all for Nintendo's phenomenal plan to undermine the recent trends in the videogame industry by creating a game platform that appeals to a wide variety of individuals, the most publicly notable ones being senior citizens with the Wii. But something about this picture is disturbing.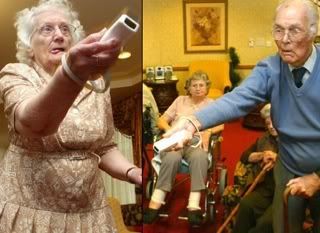 I know I should be like, "Oh, aren't they cute! Look how they swing that Wiimote around like they're 62 again!" but in all actuality, this image bothers me. Maybe it's the fact that they both look like they're seriously messed up. If these were young people, I'd assume something like they were drunk, but I know that is most likely not the case here, and I'm left with a strange mix of revulsion and pity. I just want to look away, whereas I should want to hug them and praise them for being so fun and willing to try new things.
Nope, just not happening.
Also, this just in, I'm going to hell. Big surprise.